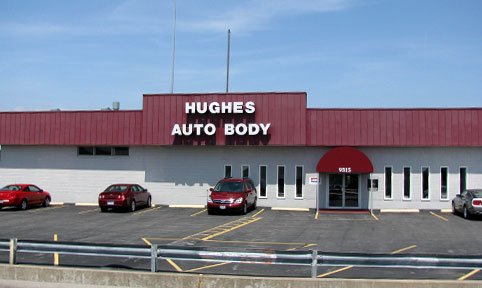 Come by one of our
St. Louis Auto Body Shop Locations
to learn how our repair services can make your car look like new and get you back on the road.
Leave Feedback Regarding Our Auto Body Repair Services in St. Louis
Hughes Auto Body cares about the satisfaction of our customers following any auto body repair service performed at our locations around St. Louis. It is our mission to provide skilled technicians in order to achieve superior results. In addition, we strive to provide a customer service experience that is second to none. If we have not met or exceeded your expectations with our auto body services including collision repair, auto glass replacement, towing, or paintless dent removal, we encourage you to take the time to let us know.
If you have recently received a repair service from one of our locations, we ask that you please take a few moments to complete the form below and let us know your thoughts on these services. Whether your comments are good or bad, we appreciate your time in helping us achieve superior customer satisfaction. We are open to suggestions and comments regarding ways in which we can improve our company in the future. In addition, we appreciate positive feedback regarding our skilled technicians or customer service representatives when they have provided superior service.
Improving Customer Satisfaction
At Hughes Auto Body, we ask for customer feedback following the completion of any auto body repair service because we genuinely care. In our mission to provide superior results to each customer, we welcome all comments good and bad regarding our customer's experiences with our employees. We review each comment we receive and use these comments to improve our business as necessary. Previous customer testimonials are provided on our website for your convenience. You can view these auto body repair testimonials here.
Skilled Automotive Repair Technicians Achieve Superior Results
At Hughes Auto Body, we employ a staff of skilled repair technicians in order to provide each customer with superior results. Each technician has training and experience working in the auto body repair industry. We encourage our employees to provide superior customer service in addition to excellent repair results. This combination has helped to make Hughes Auto Body a leading choice for auto body repair services in the St. Louis area including in Ballwin, North County, Florissant, St. Ann, and Maryland Heights.
Auto Body Repair Services
At Hughes Auto Body, we are a complete auto body repair shop. From collision repair to minor dent removal and towing, we offer all of the services to make your car like new and get you back on the road. The following are some of the auto body repair services that you will find at our locations.
If you are interested in any of these auto body repair services for your car, truck, or SUV, please contact us or request a free repair quote.