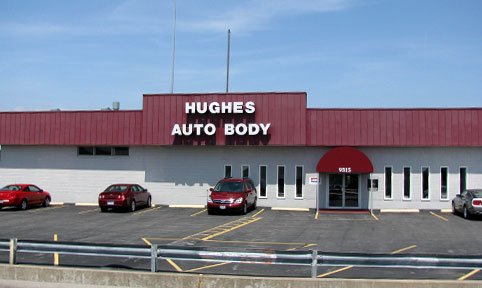 Come by one of our St. Louis Auto Body Shop Locations to learn how our repair services can make your car look like new and get you back on the road.
About Hughes Auto Body: A St. Louis Auto Body Shop
Hughes Auto Body is a family owned and operated auto body repair shop with two locations in St. Louis, Missouri. We offer quality auto body repair services at affordable prices including collision repair, automotive towing, paintless dent removal, and auto glass replacement. We also offer premium automotive detailing services. We are dedicated to providing our customers with superior service resulting in outstanding customer satisfaction. We provide a lifetime warranty on our auto body repairs as a testament to this superior service. Since 1980, we have been serving our clients throughout St. Louis. We offer two convenient locations making our auto body shops an ideal choice for auto body service and repair. To find which location is nearest to you, view our auto body shop locations on our Contact Us page.
As a leading auto body repair shop, we are I-Car Gold Class Certified. We offer superior auto body repair service and are a proud member of ASA, AASP, the Better Business Bureau, the Northwest Chamber of Commerce, the West St. Louis County Chamber of Commerce, and the Greater North County Chamber of Commerce. We offer our services to clients throughout the St. Louis area including in Ballwin, Des Peres, Maryland Heights, Normandy, St. Ann, and St. Louis City.
Hughes Auto Body Repair Shop Mission Statement
Our mission at Hughes Auto Body, Inc. is to be recognized as a leader in the industry treating all of our customers and employees with honesty, sincerity, and respect in a positive and timely manner to promote lifelong service customers. We are committed to continuing the education of all our employees in order to keep up with the changing technology of tomorrow's cars and trucks. This ensures the utmost in quality and service to you, our customers.
Services at Our St. Louis Auto Body Repair Shop
We are a full service auto body repair shop offering a number of services in our St. Louis Auto Body Shops. If your car was recently involved in an accident or collision or is in need of other repairs or cleaning, we offer the services to make your car look like new. From collision repair following major accidents to automotive detailing, we are the body shop to call. If you are interested in any of the following services that we offer, feel free to come by or call us today.
Auto Body Repair: We offer complete auto body repair services for vehicles involved in car accidents. From major repairs like frame straightening to auto body part replacement or repainting, our skilled repair technicians bring the training and the knowledge to make your car look like new.
Auto Body Estimating: We offer repair estimates in St. Louis from our two full service auto body shops. Contact us to speak with an estimator if you would like to receive a free estimate for your auto body repair service.
Automotive Towing: If you are looking for a tow truck company in St. Louis, Hughes Auto Body offers convenient and affordable towing services for cars, trucks, vans, and SUVs.
Paintless Dent Removal Services: We employ paintless dent repair specialists who are able to remove small and large dents from your car's body. Our quality dent repair services are a quick and affordable way to restore your car's original beauty.
Auto Glass Services: Our auto glass services include windshield replacement and repair. We recommend prompt repair of any windshield cracks or chips in order to ensure optimal safety.
Auto Detailing Services: We offer complete auto detailing services including exterior detailing and interior detailing services. With our automotive detailing services, you can choose the level of clean that fits your budget and your needs. Contact us for more information on this service and to receive our auto detailing prices.
---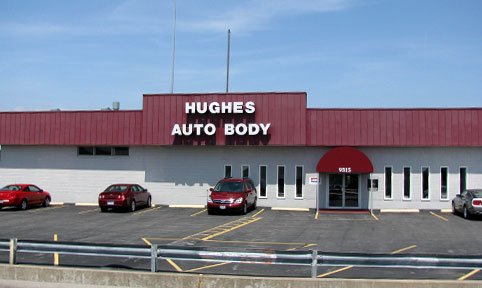 Come by one of our St. Louis Auto Body Shop Locations to learn how our repair services can make your car look like new and get you back on the road.