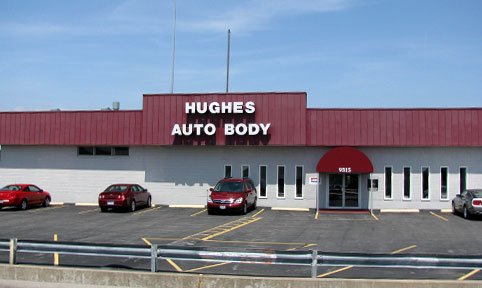 Come by one of our
St. Louis Auto Body Shop Locations
to learn how our repair services can make your car look like new and get you back on the road.
Auto Body Repair Customer Service: Hughes Auto Body Shop in St. Louis
Customer Service is an important aspect that is often overlooked by auto body repair shops. However, at Hughes Auto Body, our goal is to have each and every customer leave as a satisfied customer. We aim to achieve this goal by providing a friendly staff offering superior customer service and skilled technicians delivering quality results. If you are looking for a St. Louis auto body shop for auto body repair services, paintless dent removal, auto glass repair, towing, or auto detailing services, Hughes Auto Body is the ideal choice. We serve cities throughout the St. Louis area including Ballwin, Des Peres, Manchester, Maryland Heights, Florissant, Hazelwood, Normandy, St. Ann, St. Louis City, and more. To see our convenient area auto body shop locations, view our Contact Us page.
Friendly Office Staff for Auto Body Customer Service
The office staff at our auto body shops are ready to help each customer in any way possible. From scheduling drop off times for repairs to helping with the insurance company, our customer service representatives provide a variety of skills in order to help make the stressful and nerve racking time following an accident a little easier for our customers. If you are interested in any of our auto body repair or auto detailing services, feel free to call one of our St. Louis auto body shops today to speak with our customer services staff.
Our office staff can help by scheduling an appointment for your auto body repairs or auto detailing services. In addition, if you require a rental car while your repairs our being completed at our auto body shops, we can help with that too. Our staff will set up a car rental and even have the rental car company meet you at our shop at the time of your drop off to get you out on your way. We even help submit your estimate to the insurance company in order to get your repairs off to a smooth start. Finally, our friendly office staff is available to provide superior customer service and answer any questions during every step throughout your repair process. If you have any questions about any of our services, feel free to call our customer service employees for assistance.
Auto Body Repair Testimonials and Referrals
If you are interested in learning about what other customers thought of Hughes Auto Body, you can see some previous customer referrals and testimonials regarding our superior customer service and auto body repairs on our Testimonials page. With a strong emphasis on providing quality results and superior service to each of our customers, these are just some of the outstanding testimonials that we receive regarding services performed at our St. Louis Auto Body Shops.
Leave Feedback: Improving Our Auto Body Shop Customer Service
If we have recently completed auto body repair, paintless dent removal, auto glass replacement, towing, or auto detailing services for your vehicle, feel free to leave feedback regarding your service. We welcome all comments good and bad regarding our customers' experiences. Whether you would like to commend our superior customer service staff or skilled technicians or you want to share your disappointment with our management, we want to hear from you. We will review all customer comments and use negative feedback to improve our company and the way in which we do business. If you were unsatisfied with you experiences at either of our auto body repair shops and would like to speak with someone directly, please feel free to call or come by one of our locations.
Quality Auto Body Repairs
As a leading Auto Body Repair Shop, Hughes Auto Body expresses our commitment to achieving customer satisfaction and providing superior results by offering a lifetime warranty on our auto body repair services. For all of all our repair services, we use only quality parts. With our highly trained and skilled repair technicians, each of our repairs offers quality that will last.