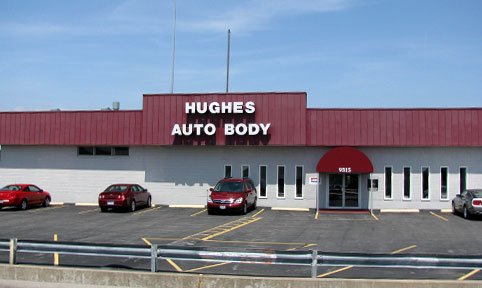 Come by one of our
St. Louis Auto Body Shop Locations
to learn how our repair services can make your car look like new and get you back on the road.
Auto Body Repair Questions and Answers
The following are answers to some of the questions that we frequently receive at our auto body repair shops. If you have additional questions regarding your collision repairs with Hughes Auto Body, please feel free to contact us or come by one of our convenient St. Louis locations today.
Why is Hughes Auto Body a leading Auto Body Repair Shop in St. Louis?
Hughes Auto Body is an auto body repair shop with several locations throughout St. Louis. We offer complete auto body repair services for cars, trucks, vans, and SUVs, which have been involved in major car accidents or minor collisions. As a preferred auto body shop for many local insurance companies, we work with your insurance company making your repair as quick and hassle free as possible. We strive to provide superior customer service and satisfaction with each of our auto body repair services. See some customer referrals for our St. Louis Auto Body Shop on our Testimonials Page.
How long does an in-person estimate take at your St. Louis auto body shops?
The length of time it will take to complete your auto body repair estimate will vary depending on the amount of damage to the vehicle. On average, receiving a free repair estimate in-person at one of our St. Louis Auto Body Shops should take no longer than 30 minutes.
Do I need to drop off my car when receiving a free repair estimate?
Absolutely not, at Hughes Auto Body, we work with you to make your repair as convenient and hassle free as possible, you are welcome to stop by one of our automotive repair shops to receive a free estimate at a time that is convenient for your schedule. If dropping your car off while we prepare the estimate is the most convenient option for you, you are more than welcome to leave your car with us and return later to pick it up.
How does the collision repair estimating process work?
If you are receiving an estimate for the first time for the repair of your vehicle following an accident or collision, it helps to have the insurance company's claim information available for our estimator to review. We will need your personal information including name, address, and phone number. Next, you and a skilled appraiser will examine all of the damage to your vehicle. During this review, the estimator will take detailed notes so that he or she can input this information into our computer and print your auto body repair estimate.
Who is responsible for submitting the auto body estimate to my insurance company?
This will depend on your insurance company, if it is one of our Direct Repair Program (DRP) companies, then we will work directly with you insurance company and submit the estimate for you. If it is not part of our DRP then we will be happy to email or fax your repair estimate to you for you to provide it to your insurance company.
What is the Direct Repair Program?
The Direct Repair Program is when an auto body shop is a preferred shop for an insurance company and therefore works directly with that insurance company resulting in a hassle free repair for customers. Body shops can earn the right to be accepted as preferred shops for insurance companies by meeting certain requirements, such as employing certified technicians, using proper equipment to perform repairs, and having a record of satisfied customers. As a preferred shop, Hughes Auto Body will write the estimate, order parts, and performs repairs without having to wait for an insurance adjuster resulting in a quicker repair process.
To find out if we are a preferred shop participating in the Direct Repair Program with your insurance company, please contact one of our St. Louis area Auto Body Repair Shops.
Are some of my vehicle's auto body repairs not covered by my insurance company?
Repairs that are not directly related to the particular accident for which your car, truck, or SUV is undergoing repairs, will not be included in the portion of your repair that is covered by the insurance company.
Can you write a second estimate for the repair of damages not covered by my insurance company?
Yes, we would be happy to provide you with a second repair estimate for additional auto body repairs that will not be covered by your insurance company. If you are interested in this service, please let the estimator know at the time of receiving your auto body repair estimate.
How long does an average auto body repair take to complete?
The length of time to complete an auto body repair can vary based on number of factors including the location and extent of the damage. In general, once disassembly has been complete and all of the required parts have been received, it will take about one (1) business day for every 5 hours of repair service performed on your vehicle. For example: 43 Hours = 8.6 days.