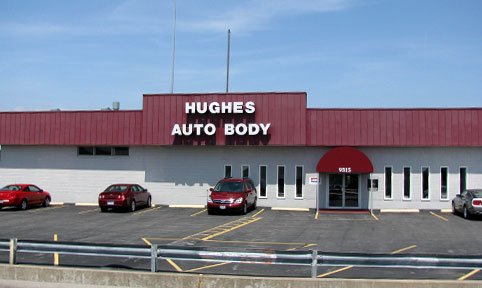 Come by one of our
St. Louis Auto Body Shop Locations
to learn how our repair services can make your car look like new and get you back on the road.
Services Offered At Hughes Auto Body Shop in St. Louis
At Hughes Auto Body, we are a full-service auto body repair shop in St. Louis offering a variety of auto body repair services and collision repair services. If your car, truck, van, or SUV was recently involved in a collision or is in need of auto body repair, we are the repair shop for you. From affordable paintless dent repair to major auto body repair, our technicians are highly skilled offering superior quality work. In addition, our support staff offers outstanding customer service in order to ensure each customer receives the care and attention they deserve during the stressful period following an accident.
We offer superior auto body repair services in each of our locations throughout the St. Louis Area. The following are some of the specific St. Louis City and County areas in or near which we have Hughes Auto Body locations.
Ballwin
Berkeley
Bridgeton
Creve Coeur
Des Peres
Florissant
Hazelwood
Manchester
Maryland Heights
Overland
Olivette
St. Ann
St. John
St. Louis City
Auto Body Repair Services
Our complete collision repair services include auto body repair following minor and more serious accidents. We provide computerized frame straightening and repair, replacement or repair for auto body parts, and repainting services in order to return your vehicle to its pre-accident condition. We utilize only the highest quality parts and materials as well as the latest technology in order to provide our customers with quality repairs. You can learn more about our auto body repair services in St. Louis online or by calling one of our convenient locations.
Paintless Dent Removal Services
At Hughes Auto Body, we offer paintless dent repair as an affordable alternative to traditional dent repair methods. This type of bodywork is a quick and inexpensive way to return your car to its original look. Paintless dent removal is covered by most automobile insurance plans and is an affordable repair solution for the following types of dents.
Smooth, shallow dents and dings
Dents that range in size from very small to large
Dents where the paint is not cracked
Dents not located near the edge of a panel
Automotive Towing Services
We offer automotive towing services throughout the St. Louis area. Following an accident, our convenient towing services are available to bring your car, truck, van, or SUV in to one of our auto body shops for repair. If you need your vehicle towed following a car accident or collision, call us any time.
Estimating Services
At Hughes Auto Body, we offer convenient estimating services for auto body repairs. If you would like a repair estimate from our auto body shop, schedule a free repair estimate online, stop by one of our auto body shop locations, or schedule a drop off appointment online.
Auto Glass Replacement and Repair
We offer auto glass replacement and repair services at each of our St. Louis body shops. If you have a small crack or chip in your windshield, come by our shop to see if we can repair it with our quick and affordable glass repair service. For major cracks, we offer auto glass replacement for windshields and other automotive windows.
Customer Service
We recognize that the time following an accident is stressful. It is a time when you are filled with many questions and concerns. For this reason, we employ a number of highly trained and experienced technicians and other support staff in order offer superior customer service, making your repair process as painless as possible. If you are looking for an auto body shop in St. Louis that provides outstanding customer services and superior results, contact Hughes Auto Body today. See testimonials from previous customers that support our claim for providing superior customer service on our Auto Body Repair Testimonials Page.