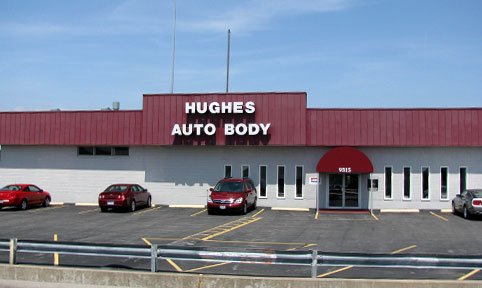 Come by one of our
St. Louis Auto Body Shop Locations
to learn how our repair services can make your car look like new and get you back on the road.
Privacy Policy for Hughes Auto Body Repair Shop in St. Louis
If you are looking for an auto body shop in St. Louis, Hughes Auto Body is the place for you. We offer complete auto body repair services, convenient towing, auto glass replacement, and more. We will help you by fixing your car so you can be back on the road in no time. The following are some of the auto body repair services you will find in our St. Louis area body shop locations. To learn more about any of these services, contact us or request a free auto body repair estimate online.
If you are looking for auto body repair services in St. Louis, come by one of our local Hughes Auto Body shops to learn how we can help. We service the follow St. Louis neighborhoods, providing superior quality results with each auto body service we perform.
Ballwin
Berkeley
Bridgeton
Creve Coeur
Des Peres
Florissant
Hazelwood
Manchester
Maryland Heights
Overland
Olivette
St. Ann
St. John
St. Louis City
The following Privacy Policy is intended solely to relate to information, which we obtain through the use of this website. This does not apply information that we collect in our shops or through other sources.
Commitment to Privacy
At Hughes Auto Body, we hold our customers' privacy as a top priority. For this reason, we have included the following Privacy Policy in order to share our terms and conditions pertaining to the collection, use, sharing, and storage of personal information that is obtained through this website.
Types of Information We Collect
Through this website, we will collect a variety of information from website visitors and auto body customers. This information is collected through the various forms on our website including the Contact Us form, the Request a Free Repair Estimate page, our Schedule a Drop Off section, and the Leave Customer Feedback form. Types of information requested through these forms and pages includes personal information such as names, phone numbers, email addresses, addresses and personal comments. In addition, we also request information about our visitors' vehicles including make and model of each vehicle and the specific type and locations of damage.
How We Use Information
Information that is collected through our contact us form and the leave customer feedback section will be used for company and website improvement. Customer comments from our feedback form may be posted on our St. Louis Auto Body Shop Testimonials page as we see fit. In addition, we may use names, phone numbers, email address, etc. to contact customers in response to questions made through one of these forms.
Personal information that is collected through our request a free auto body estimate and schedule a drop off time forms will be used to complete the specific requests initiated by the customer. We may use this information to contact customers as necessary to complete requests.
We will not make email addresses, names, phone numbers, or any other types of personal information collected and maintained through this website available to any outside organizations unless directly related to completing a request made by the customer. In no circumstances will we sell or trade any personal information with outside parties including email addresses, names, addresses, and phone numbers.
How We Protect Information
As a leading auto body repair shop in St. Louis, we have implemented the appropriate security measures both in our physical locations and in our electronic systems, in order to maintain the safety of all personal information collected through this website. This information is protected against loss, misuse, alteration, or any other type of abuse.
Your Consent
By using our website, you are agreeing to the terms and conditions stated in this privacy policy.
Changes to This Privacy Policy
Hughes Auto Body reserves the right to change our privacy policy as needed. Any changes that are made to our electronic privacy policies will be made available to customers through this page.