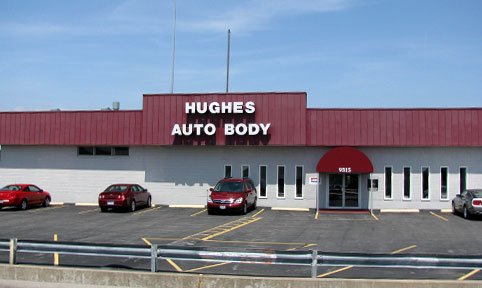 Come by one of our
St. Louis Auto Body Shop Locations
to learn how our repair services can make your car look like new and get you back on the road.
Paintless Dent Repair Service in St. Louis
Hughes Auto Body offers paintless dent repair services by skilled repair technicians in our locations throughout the St. Louis area including Ballwin, North County, Bridgeton, and more. This new service can be used to remove many small and medium sized dents and dings from cars without causing damage to the original paint. If you are looking for affordable dent removal, contact our auto body repair shop to learn more about our paintless dent removal services.

An Inexpensive Dent Repair Alternative
Paintless dent removal is an affordable solution for auto body repair as it allows the technician to remove dents from almost any panel of a car with no damage to the original paint. This auto body repair process is gaining in popularity because it is a fast and simple dent repair method for dents up to the size of a football. When performed by skilled repair technicians, this service requires no sanding, body filler, or repainting. Because this dent removal process is quick and effective, it offers convenience and saves time and money.
Because of the widespread use of high-strength metal and resilient paint finishes in automotive manufacturing today, the paintless dent repair method is an effective alternative to traditional auto body repair methods. Partly due to the fact that the size of dents that can be repaired using paintless dent removal has been increasing as new technologies are developed, this repair process is becoming more widely accepted as a common repair method for dents. Paintless dent repair is often covered by most insurance companies, especially for the repair of hail damage.
What Types of Dents Can Paintless Dent Removal Fix?
The following are some of the most common situations for which paintless dent repair is an effective dent repair method:
Smooth, shallow dings, dents, and creases that range in size from large to very small
Dents in 1990 model year or newer vehicles
Dents where the paint has not been broken or cracked
Dents that are not located near the edge of a panel
Dents where the panel has not had previous body repair
Advantages of Paintless Dent Repair
There are a number of advantages to using this repair method to fix dents and dings in your car. The following are some popular advantages of paintless dent removal over traditional repair techniques.
No repainting or body filler required
Less expensive alternative to traditional auto body repair
Often quick, same-day service is available
How Paintless Dent Removal Works
Paintless dent removal is performed by skilled repair technicians using special tools and techniques in order to actually push a dent or ding back to its original shape from the inside surface. Depending on the location of the damage, the backside of a panel can be accessed by removing trim pieces, through window openings, or by removing inner panels.
In the typical paintless dent removal process, the metal around the outside edge of a dent is slowly massaged into the original position, gradually shrinking size of the dent until it disappears completely. This process takes one to two hours to complete and costs just a fraction of the cost of for traditional dent repair methods.
If you are interested in learning more about this process available at all of our St. Louis area Hughes Auto Body locations, stop by one of our convenient locations for an estimate today.