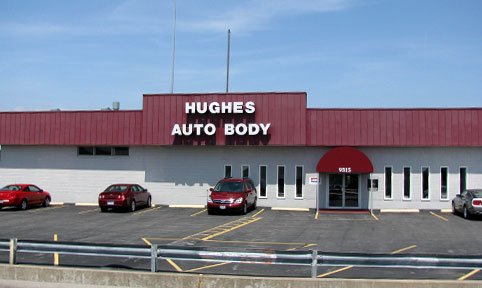 Come by one of our
St. Louis Auto Body Shop Locations
to learn how our repair services can make your car look like new and get you back on the road.
Online Specials for Auto Body Repair from Hughes Auto Body in St. Louis
At Hughes Auto Body, we offer quality auto body repair services at affordable prices. From towing and major auto body repair services following accidents and collisions to paintless dent removal and auto glass repair and replacement, we are a full service auto body shop. We provide a skilled team of highly trained technicians in order to offer quality service and results. With our auto body shops located throughout St. Louis City and County, we have become a leading auto body repair shop for the St. Louis area.
In addition, to our every day affordable prices and services, we also provide a variety of online coupons or special discounts on our auto body repair services. These discounts are provided in order to make our quality services more affordable to our customers. Be sure to check back often to see our current online offers and special discount coupons which we have available.
Current Online Special Discount
Free detailing on any job over $1000.00! Mention that you saw this offer on this website.
Free Auto Body Repair Estimates
If your car, truck, van, or SUV has recently been damaged in an accident or collision, Hughes Auto Body offers collision repair services in St. Louis. With our quality repair services, we can fix your car and get you back on the road. Contact us for a free estimate of charges for your auto body repair. You can also complete our simple online form to request a free repair estimate. By providing some basic information, including make and model of car, the type of damage, and the severity of the damage, we can provide you with a free estimate of the cost to repair your vehicle.
Quality Auto Body Repair
At Hughes Auto Body, we offer quality auto body repair services at our shops located throughout the St. Louis area. We are an approved repair shop for many insurance companies, making our affordable repair services the ideal choice. If you were recently in an automotive accident or collision from which your car, truck, van or SUV requires auto body repair services, contact us for help. We offer complete repair services including computerized frame straightening services, auto body repair, and quality body paint repair services. In addition, we also offer convenient towing services throughout the St. Louis area in case your car is unsafe or unable to be driven after a collision.
Affordable Dent Repair: Paintless Dent Removal
We offer paintless dent removal as an alternative to traditional dent repair methods. This technique is a quick and affordable solution to restore your vehicle to its original condition. This affordable dent repair method eliminates the chance for incorrect color matching, as no repainting is necessary. In addition, paintless dent repair helps to maintain the durability of your car's original paint coat increasing the car's value.
Low Price Auto Glass Repair and Replacement
If your car, truck, van, or SUV has a cracked, chipped, or damaged windshield, Hughes Auto Body offers affordable auto glass repair and replacement services. Our auto glass repair services offer quick and affordable solutions to cracked or chipped windshields. This process can repair small and medium sized chips and cracks in auto glass, making them nearly invisible and restoring the structural integrity of the windshield. If your windshield is damaged beyond repair, we offer auto glass replacement for all types of cars, trucks, vans, and SUVs.
Auto Detailing
We offer auto detailing including full interior, full exterior, glass, engine, wheels, trim and paint.