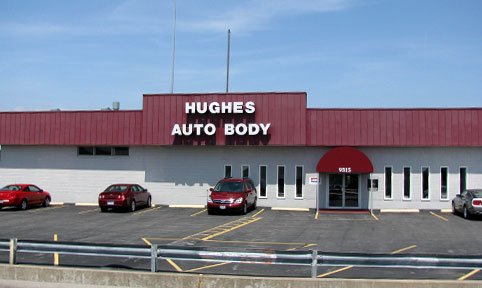 Come by one of our
St. Louis Auto Body Shop Locations
to learn how our repair services can make your car look like new and get you back on the road.
Schedule a Drop Off for Auto Body Repair in St. Louis
Hughes Auto Body is a leading auto body repair shop in St. Louis providing collision repair, auto glass replacement and repair, paintless dent removal, and towing services. If you are interested in any of our services, we welcome you to bring your car by one of our St. Louis area locations. No matter what your problems, our auto body repair technicians can fix your car, truck, or SUV and help you to get back out on the road. If your vehicle is unsafe or unable to be driven following an accident or collision, learn about our St. Louis area Towing Services.
We know you have a busy schedule, so we have created the ability to schedule a drop off time for your vehicle online making auto body repair quick and easy. By providing the information requested below, you can tell us a convenient time for you to drop off your car for repair. Whether you need major body repair or simple paintless dent removal, we will fit your repair services into your schedule.
Auto Body Shop Locations
When scheduling a drop off time online for your auto body repairs, be sure to tell us at which of our St. Louis locations you would like to have your repair services completed. Our repair shops are located in several convenient areas across St. Louis, so we are sure to have a shop near you. View our auto body shop locations for addresses and contact numbers. The following are some of the St. Louis municipalities in or near which our auto body shops are located.
Ballwin
Berkeley
Bridgeton
Creve Coeur
Des Peres
Florissant
Hazelwood
Manchester
Maryland Heights
Overland
Olivette
St. Ann
St. John
St. Louis City
Services Offered at Hughes Auto Body
At Hughes Auto Body in St. Louis, we are a complete auto body repair shop offering a variety of services. This online form allows you to schedule a drop off time online for any of the auto body services we offer. If you are looking for paintless dent removal or major auto body repair, our body shops can make your car look like new. To learn more about any of our services, call one of our locations today.
Hughes Auto Body provides complete collision repair services for cars, trucks, and SUVs. If you were recently in a car accident, schedule an appointment to drop off your vehicle for our auto body repair services. With our auto body repair, we will fix your car and make it like new.
We offer paintless dent removal services. This quick and affordable dent repair alternative can remove dents up to the size of a football.
If following an automobile accident your vehicle is unsafe or unable to be driven, Hughes Auto Body can tow your car in to one of our shops for repair. Contact us to learn more.
We offer auto glass repair and replacement services in conjunction with our collision repair services or as a separate service. If you need your windshield or other automotive windows replaced or if you have cracks or chips that need repair, we can help. Schedule an appointment at any of our St. Louis locations for auto glass replacement and repair.