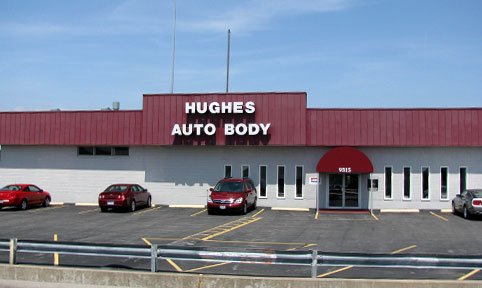 Come by one of our
St. Louis Auto Body Shop Locations
to learn how our repair services can make your car look like new and get you back on the road.
Website Map for Hughes Auto Body in St. Louis
Hughes Auto Body is a leading repair shop in St. Louis with several locations throughout the St. Louis area. We offer complete auto body repair services including body repair, convenient towing, paintless dent removal, and auto glass repair and replacement. If you are interested in any of our repair services, request a free auto body repair quote today. The following are some of the St. Louis municipalities in or near which our auto body shops are located.
Ballwin
Bel-Nor
Bel-Ridge
Berkeley
Bridgeton
Chesterfield
Creve Coeur
Des Peres
Florissant
Hazelwood
Kirkwood
Manchester
Maryland Heights
Normandy
Overland
Olivette
St. Ann
St. John
St. Louis City
Wildwood
The following website map can be used as a guide to help you navigate through our website and find important information about our St. Louis body shop locations and the services that we offer at these locations.
Auto Shop in St. Louis: On the Hughes Auto Body home page, you can find information about our St. Louis area auto body shops that offer complete auto body and collision repair services including frame straitening, auto body repair, auto glass replacement, paintless dent repair, automotive towing services, and more.
Request a Free Estimate for Auto Body Repair in St. Louis: On this page, you can request a free auto body repair quote from Hughes Auto Body. If you were recently involved in an automobile accident, provide us with some basic information here to request an estimate online for your repair costs.
About Hughes Auto Body in St. Louis: Find information about the Hughes Auto Body Company and our family-owned auto body repair shops located throughout the St. Louis area.
Services: Learn about the auto body repair services available at our St. Louis Body Shops. Our skilled technicians offer quality results in order to achieve maximum customer satisfaction.
Testimonials for Our Auto Body Repair: Read testimonials and customer referrals for our auto body repair services from previous clients.
Schedule a Drop Off for Auto Body Repair Service in St. Louis: On this page, you will find a form that allows you to schedule a drop off time online for auto body repair service.
Frequently Asked Auto Body Repair Questions: View answers to the questions that are frequently asked about our auto body repair shops and the services that we offer.
Forms for Our Auto Body Shops in St. Louis: Find links to important forms that are commonly used at our St. Louis body shops.
Special Online Discounts for Auto Body Repair: View our current coupons and special discount offers available online for Hughes Auto Body in St. Louis. These discounts allow you to receive affordable prices on our quality auto body repair services.
Auto Body Repair Warranties: Learn about the warranties offered on our auto body repair services including paintless dent removal, windshield replacement, and body repair.
Car Care Tips: Find tips for maintaining your vehicle's original paint and special care tips for new paint from auto body repairs.
Contact Our St. Louis Auto Body Shop: View important contact information for our St. Louis body shops including location addresses, phone numbers, fax numbers, and hours.
Auto Body Repair Services Feedback: Leave feedback regarding your recent repair experience with Hughes Auto Body.
Privacy Policy for Hughes Auto Body: Read about the privacy policies for our auto body shops.
Hughes Auto Body Website Map: Use this site map to help navigate our website and find important information about the auto body repair services offered at our St. Louis auto body shops.